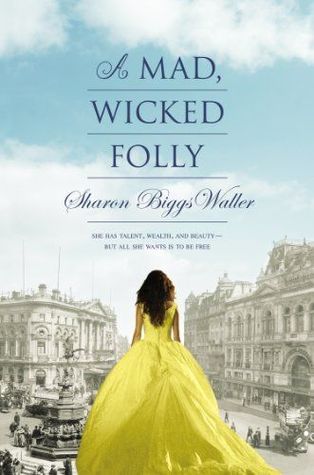 A Mad, Wicked Folly

by Sharon Biggs Waller
Published by Viking on January 23, 2014
Pages: 448
Format: ARC
Source: Publisher
Amazon • Goodreads

Welcome to the world of the fabulously wealthy in London, 1909, where dresses and houses are overwhelmingly opulent, social class means everything, and women are taught to be nothing more than wives and mothers. Into this world comes seventeen-year-old Victoria Darling, who wants only to be an artist—a nearly impossible dream for a girl.

After Vicky poses nude for her illicit art class, she is expelled from her French finishing school. Shamed and scandalized, her parents try to marry her off to the wealthy Edmund Carrick-Humphrey. But Vicky has other things on her mind: her clandestine application to the Royal College of Art; her participation in the suffragette movement; and her growing attraction to a working-class boy who may be her muse—or may be the love of her life. As the world of debutante balls, corsets, and high society obligations closes in around her, Vicky must figure out: just how much is she willing to sacrifice to pursue her dreams?
I'm sure you've seen this cover making its round in the book community. Even I find it quite catching, and I've been known to criticize a YA cover once or twice…or most-times. But that's beside the point. What I want to say is that I think Sharon Biggs Waller's A Mad, Wicked Folly deserves popularity.
Because, truly, if one's decision whether or not to read a book is based on synopsis alone this book would've been discarded easily. The premise promises drama and opulence to some, monotony and exasperation to others. It promises nothing more than what we've all read before: a girl trying to defy her circumstances, a girl with morals, goals, and personality. But they're always a let down. Not here. Not Victoria Darling. Not Sharon Biggs Waller.
A Mad, Wicked Folly is a historical young adult fiction that does its job; it entertains while imparting knowledge. Victoria introduces us to art, Pre-Raphaelite art in particular. Through her artist's eyes, she shows us the beauty and technique in painting. She shows us how to look at a painting. That right there, I haven't felt from a YA book in a long time.
Take A Mermaid, for example. An iridescent painting by John William Waterhouse. A familiar painting to myself but with Victoria, I learned where to look, how to look and what to make of what I saw. I found myself googling the painting, zooming in and out of focus trying to see what she felt. If that's not compelling writing, I don't know what is. The passion is there, coursing through the author into her character and into the reader.
Another fascination of Waller's is history. This novel is set at the turn of the 20th century. England. Now, if you watch Downton Abbey, you'll know all about the remarkable changes occurring during this period. If not — why aren't you? It's astonishing that women's suffrage (just another way to mean women's right to vote) has only been around for a century or so. Literally just a couple of blocks down the timeline and women of then were so unjustifiably limited. There was already a subway station for crying out loud!
Victoria is originally mixed in with a group of suffragettes, a huge misunderstanding. She wants to focus on art, not politics. But as she tries harder and harder to make her artistic dream come true, the more she bumps into strictures. And more and more, her creative aims are tied tighter with those of the female protesters. Victoria slowly realizes how all the suffocations of life have been because of her sex. How freedom in one area of life is not enough. How it must be freedom in whole.
Victoria is illustrated as passionate, ambitious and determined. I'm glad to say she stays that way. She is not swayed easily, distracted often. Her focus is straight and unrelenting. More importantly, she never forgets herself. Not in a selfish, self-absorbed way. But in the way of never losing one's identity and aspirations.
There are other things, like, oh, romance. Of course, there is. And it's nice. The love interest is a dish. The relationship is believable; it develops in a timely fashion; and there is a genuine connection. Victoria makes friends with the suffragettes who are based on real people and some of them sparkle.
The writing is wonderful. It uses dialogue extremely well; relying on the characters to tell the story rather than the author scrawling endless descriptions which readers are made to swallow. Characters have personality! I rarely laugh out loud but there were some very funny quips that made me actually LOL.
A negative? Well, maybe because this book does take on some heavy issues, it did sometimes border on preachy; a little too repetitive. But that's a faint negative. Also some weird phrasing; some sentences sounding off. Again, small complaint. The ending? While, I did find it a tiny bit preposterous — a little hard to believe — I appreciated it. It was brave in more ways than one.
If only all YA books were this easy to read and review. Sharon Biggs Waller's A Mad, Wicked Folly is a wonderful treat. Pretty on the outside, beautiful on the inside. Likeable characters, good plot. Respect is given to history. This is an ode to art and justice.
This review also appears on Goodreads. An advance copy was provided by the publisher for this review.
Related Posts