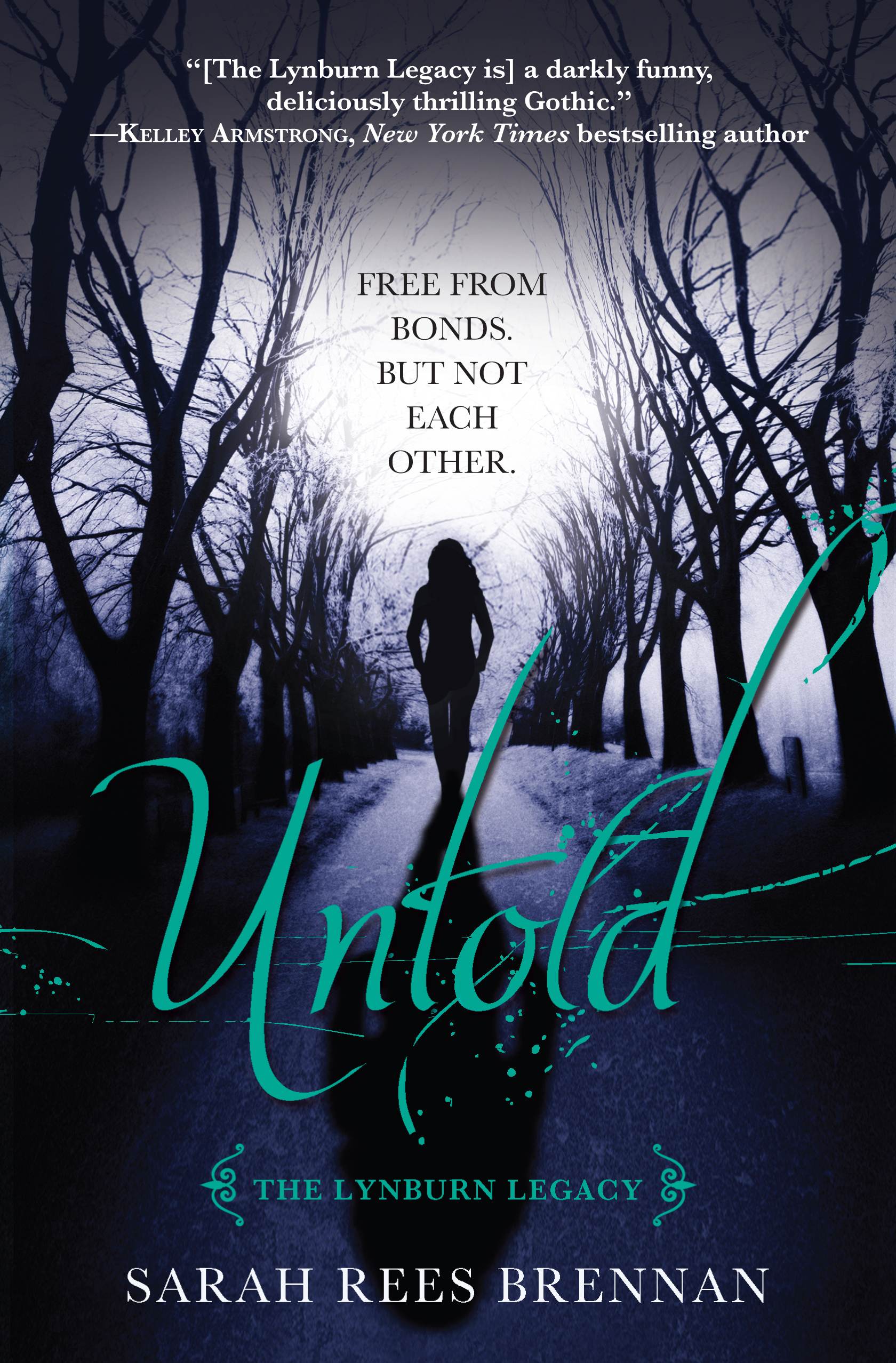 Title: Untold (The Lynburn Legacy #2)
Author: Sarah Rees Brennan
Rating: 4 out of 5 stars
Release Date: September 24, 2013
Publisher: Random House
Age Group: YA
Source: Borrowed
Sit down. I have a lot to say… There have been much debate over Sarah Rees Brennan's second installment in her Lynburn Legacy trilogy. It had been so hyped up it almost jinxed itself. Untold has received giddy praise and somber criticism. So, which is it? Well, it's kind of both.

Untold tells the aftermath of Kami and Co. after having discovered that it was Rob Lynburn who had been doing the massacring around not-so-sleepy-town Sorry-in-the-Vale. Now, he's recruiting to build an army. As is with most middle books, the basic premise is preparation. Kami needs to spread the word out to the people, to educate them and arm them of and against these evil magic doers. 

Plot-wise, the book suffered faintly — I say faintly because I am unyielding in my fan-love and will be satisfied with whatever Brennan gives me. The book is slow and in the end, progress is short. We learn a little more about how magic works between the Lynburns, a few more spells, a bit more history. But somehow Kami spends more time learning karate moves, doing historical research and playing undercover agents — all important but not quite the action readers were hoping for. Something I really liked, however, is the time spent with Kami's parents. It's a sweet relationship with genuine affection, so the downward spiral it descends into is heartbreaking. There is also more mystery with Kami's mom. The trouble is, we are given almost no answers.

As for the paranormal factor in this novel, it is hard to believe that as a town that is in the midst of war between centuries-old sorcery and good old human mortality, there is still such a thing as school, or trick-or-treating, or going to the post office. This is one heck of a diplomatic and considerate war — but I understand, that's the way of the game. With that said, it does make up for lost bloodshed. There is gore and appropriate repercussions are dispensed.

Surprisingly, something many found exasperating was one of the highlights and strengths in the first book — the quirky, eccentric yet lovable smart-alec attitude of the characters. I agree begrudgingly. Yes, they did occasionally meander into Annoying Ville. There were a little too many clever quips, too many droll retorts.

Kami, in particular. Sometimes I just wanted her to speak normal, which is almost sacrilegious as she is one of the most colourful and effervescent protagonists I've ever met. More than that, she stands for self-respect and self-confidence. Her psychology, understandably, needs healing. She is still struggling from detaching herself as an individual from her link to Jared. Did all her guts and spirit come solely from him or did she possess them on her own? Essentially, is she herself without him? Jared, too, is beginning to open up. And near the end, we hear him; we are allowed access to a character who has so far been unreadable. It was such conflicting pleasure. (Only Jared can do that.)

Having said that, they still frustrated me. Good god, the delusions! The angst! The misinterpretations! You see, the romantic core in the book, to me, is clear. It is just the journey there that is pissing me off. When it comes to love, these two are clueless. (But so meant to be.) The book is heavily focused on mending the cruel cracks left on them after the cut. And the scars go deep. And, as in Unspoken, it is painful yet so rewarding.

This book doesn't quite reach the height of expectations — and that's okay as they were Everest. But it is still spectacular. What I truly appreciate is the spectrum of topics Brennan covers in her paranormal romance thriller: homosexuality, family dysfunctions, the plight of low income families, marriage problems, superficial beauty, self-acceptance. It is all done subtly, softly; without ever becoming cumbersome.

Brennan tells an absurd, fun, heartfelt story of a girl who speaks to a voice in her head. This voice turns out to be a real live boy. And while they wander into magical adventures, it is ultimately about so much more.

This review also appears on Goodreads.
Related Posts